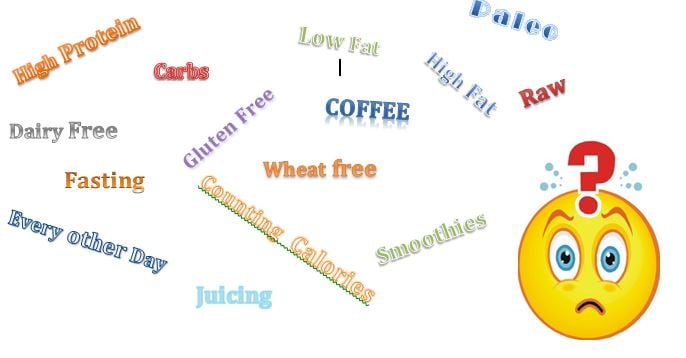 What to Eat..?? What Not to Eat..??
I find in my Practice, clients are confused – confused about what to eat, confused about when to eat – should they eat low carb, no carb, carbs only in the morning – should they be juicing, eating everything raw, not eating gluten, eating something every other day… They want a "cure" for whatever ails them and in searching for the holy-grail have tried no end of different "diets" and been given or found all sorts of conflicting advice.
Kinesiology of course is wonderful at cutting through the confusion because we see everyone individually – as a unique individual – so are able to find what will work best for them. Regardless of the reason for a client visit, they are all tired of receiving so many mixed messages about food. Often these people are on very restricted diets, either because they have been told they are "allergic" or they have read articles online or been told by a friend that the miracle cure for their ills or excess weight, is to stop eating wheat/dairy/lettuce/gluten etc etc… Of course, whilst not necessarily a miracle cure, restricting some of these items, may well achieve the desired result.
Kinesiology is about so much more than just food testing, but if this is the initial reason a new client wants an appointment then I am able to oblige. I do, however, explain that whilst food is an important issue in returning to balance, there are other factors affecting their health and giving a long list of foods to be avoided is not my style, preferring to work towards supporting them in eating a varied range of foods without guilt or stress. This may involve food enzymes to help digestion, support for a mal-functioning gut, advice about liquids, reminders about chewing calmly and thoroughly and most important of all – to eat REAL food. Clients are sometimes surprised that the foods they have been cutting out are no longer problematic for them (as they have successfully de-sensitised) or perhaps weren't an issue in the first place and the relief in their faces is palpable when they realise they are not going to be confused further.