Testimonials Swedish Massage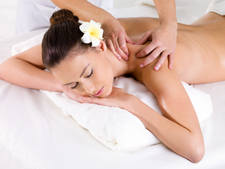 Linda really is a wonderful Masseur. I had horrendous pain and tension in my shoulder and after just one treatment it was so much better.
"Thank you sooo much for the lovely treatment - you have such a wealth of knowledge for it all and my neck and eyes feel SO much better"
"Thank you Linda for a wonderful neck and shoulder massage this afternoon, has made a great difference. Now feel totally relaxed"

"Anyone can get a qualification and 'do' massage or any hands-on treatment, but it is very special to get an instinctive treatment. I got just that yesterday"

"Thank you for the wonderfully relaxing back massage Linda! I feel soo much better! Will be booking in again very soon!"
"There are no words....." MB East Grinstead~


"My shoulder which has been dislocated some time ago gives me discomfort from time to time and after the massage with Linda it felt so much freer and had a great deal more movement in it..... and the massage was generally a great experience" BV Steyning
"
Having a massage from Linda is a magical experience. Everything from the welcome, the beautiful reception, lovely room and lovely ambience, and then the massage itself is pure pleasure. Honestly I urge you to try it - I can't recommend her enough". LC Portslade


"Thank you for giving me such a relaxed Husband..!" EC Brighton


"Excellent pressure, firm strokes, yet given in a very relaxed manner with good flow throughout - a great experience. It is very rare I can actually switch off and just give a big "let-go" sigh... Fabulous. ZS Worthing



"A really amazing experience. Totally relaxing and peaceful environment. Left me feeling amazing". IC Southwick
"I really relaxed right down into the massage - felt brilliant afterwards and have already booked a couple more.!" LL Shoreham
"The massage feels very thorough, the work on the legs is wonderful, muscles that aren't used too much. I benefit so much from the gentle pressure - everything afterwards felt as if it was moving so much more freely." MH Worthing
had an amazing Kansa Vatki Foot Massage... wow. I didnt realise how wounderful an experience it would be.. Thank you soooooo much to ......... for a fab Birthday present. But most of all thank you Linda for a truly great experience. Must book for another" GN
Linda offers a very professional and incredibly relaxing Ayurvedic Kansa Vatki Foot Massage. Linda instantly puts you at ease and the relaxation begins. It is truly a fantastic experience which I had huge benefits from and will be back for more." SG Ruislip
WOW, how relaxing was that. Thank you so much. I slept like a log afterwards and can't wait for my next session.... BU Shoreham
Linda goes out of her way to create a haven of peace and relaxation,i have always felt so good after a treatment. Thanks Linda, SA Horsham